WellaHealth, Nigeria's leading health technology startup, has awarded Nett Pharmacy Opebi Branch with the prestigious Patient Safety Vanguard Award for discovering medication errors.  This award recognizes the excellent work done by the pharmacy through her pharmacists to capture a prescribed medication that would have been detrimental to the health of a patient had it been dispensed and consumed by the patient.
This prestigious award recognizes WellaHealth Partner Pharmacies that have demonstrated a commitment to improving patient safety and reducing the risk of medical errors. Nett Pharmacy is one of only a handful of pharmacies to receive this award.
On the need for establishing this award, the CEO of WellaHealth, Dr. Neto Ikpeme stated that at the heart of WellaHealth's efforts to provide quality healthcare for businesses and enrollees subscribed to the brand is patient safety. According to him:
"The future of medicine is pharmaceutical so it is in the best interest of society that healthcare professionals are able to quickly point out medication errors which could have been made by medical professionals for several reasons."
There are over 3 million deaths from medical errors worldwide and which costs about $42 billion in health expenditure.
While presenting the award to the representative of Nett Pharmacy, Joseph Okoroafor, WellaHealth's Marketing and Communications Lead, said: "We are thankful to be in this partnership with you, and recognize the effort you put in helping patients attain their best health and ensuring that the medications they receive are correct are kept safe".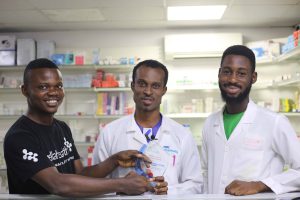 Nett pharmacy showed competence in resolving a medication-related problem. They communicated effectively with all parties involved and the result was better care for the patient. In particular, these actions ensured that the patient got the appropriate medications
Pharmacist Bright Okokon, who received the award on behalf of the Pharmacy, shared that they have been partners with WellaHealth for about a year now, and "they [WellaHealth] have been excellent. We are thankful for the opportunity to be selected as the first Patient Safety Vanguard Award from WellaHealth. We will continue to do our best to ensure patient safety in our daily practice. It is hard but our profession is critical to the health of the nation, so we must".
Read also: Folic Acid Benefits in Men
Impact of Medication Errors in Nigeria
In a recent study by Ogunleye et al on "Medication Errors Among Healthcare Professionals in 10 tertiary Hospitals", the researcher posited that there are about 35.5 percent of 2386 professionals that participated in the study reported medication error, while 33.4 percent did not think reporting was necessary.
The above data is worrisome not just because there is a high percentage of medication errors reported (35.5%) but also the number of persons who believe it was not necessary to report medication errors (33.4%). And if we choose a baseline of 50% of the latter data, there will be over 50% of reported medication errors.
Medication errors are a major problem in healthcare because they can result in serious harm to patients, including death. While Medication errors can occur at any stage of the medication process, including prescribing, dispensing, administering, and monitoring of medications, there is little or no reward for individuals and professionals who go the extra mile to stop them.
WellaHealth provides access to affordable healthcare services that start at Six Hundred (600) Naira to Nigerians and works closely with community pharmacies to provide just-in-time health services for enrollees on the platform. With 1800+ community pharmacies not pursuing excellence in prescription and dispensing practice to ensure that patients are properly catered for would have been devastating, and the leadership of the organization understands this.
The Pharmacy Operations team once championed by Eniola Ajala, and now Tomi Olusanya, continues to pursue excellence in service delivery for all partners in line with the company's goal of delivering excellent services with quality health service that puts patient safety first.
Medication errors can be caused by a variety of factors, such as insufficient staff training, failure to communicate, inadequate labeling, and inadequate patient education. As a result, healthcare providers must be vigilant in following safety protocols and procedures to ensure that medication errors are minimized, and when errors made in any stage of the medical process are stopped by gatekeepers in other stages, rewarding them will only help the administrators of that process become more vigilant.
Read also: Pharmacy Benefits in Nigeria: Africa's Pill Pack
WellaHealth is Committed to Patient Safety
WellaHealth's commitment to patient safety begins with ensuring that all team members within the WellaHealth team are highly trained and experienced. The company understands that healthcare is too important to be left without a mix of high-level training and support to ensure excellence across all verticals. Pharmacists, Pharmacy Technicians, and Pharmacy Partners in the WellaHealth Partner Program undergo training to ensure that they are up-to-date on the latest medication safety protocols and procedures.
Using a mix of machine learning technology, some anomalies are flagged by the system hitherto and a request automatically sent to stakeholders to correct or affirm prescription; others that skirts outside the system are manually treated by a team of pharmacies in-house, with the final layer being at the point of dispensing medications.
The above layers were defined process to provide a fool-proof method for providing care to our enrollees, partners and their clients.
Through the Pharmacy Operations arm of the business, we established some measures to ensure that the wrong medications are not dispensed. This is to provide a two-factor safety process for our subscribers and build trust with our enrollees.
Some of the measures the team has implemented for pharmacy partners to follow include:
Double-checking all prescriptions before filling them
Confirm that all medications inside our pharmacies carry NAFDAC's barcode for safety
Ensuring that all medications are properly labeled and stored
Providing patients with clear instructions on how to take their medication
Rewarding pharmacies that discover wrong prescriptions
The job of providing quality health care for Nigerians daily means that our team constantly provides support for all our partners to ensure medication errors are nipped early and patients get appropriate care.