In the last year, we worked with nearly 120,000 Nigerians who sought answers to the question "when is a blood pressure dangerous?" Medical doctors who work with WellaHealth attended to them via our telemedicine services and we have attempted to share some of their answers in this blog post so you can learn.
You will hear from Dr Chris Agape, who provides care for WellaHealth's patients and Catherine Okoroafor, a clinical biochemist who carries out research at a local hospital in Lagos. Let's jump right to it
When is a Blood Pressure dangerous? 
A blood pressure reading that is consistently high can be dangerous and can lead to serious health problems over time. To state clearly, high blood pressure, also known as hypertension, is defined loosely as a reading of 130/80 mmHg or higher. 
While the above case is true, Dr Chris, who receives about 20 calls weekly from WellaHealth Plan enrollees, explains that the degree of danger associated with high blood pressure varies. This, he continues, "depends on several factors."
What are the factors that can make Blood Pressure not dangerous?
The different factors that help doctors make decision on what medications or treatment plan to place patients on include the following:
Individual's age

Individual's Weight

Individual's Gender

Individual's Past health history

Overall health status of that individual.
He gave an example thus, a blood pressure reading of 140/90 mmHg in an otherwise healthy young adult may not be as dangerous as the same reading in an older adult with other health problems.
Catherine Okoroafor, a clinical biochemist, explains it this way: 
"The heart constantly does work and as humans age, the heart ages with it. While the normal heart blood pressure should be within a certain range for young adults, it is different for older patients".
"With age, the heart seems to beat faster than a younger one.  In most people, according to the American Heart Association,  systolic (the number on top of a BP reading)  blood pressure rises steadily with age due to the increasing stiffness of large arteries, long-term buildup of plaque and an increased incidence of cardiac and vascular disease. So a medical doctor will definitely gloss over some blood pressure readings if they can confirm the age of the person and juxtapose it with other factors as age alone cannot fully tell them what to advise".
What is a normal blood pressure reading?
Depending on the guideline you are using, there are different readings for blood pressure which includes the following: low, optimal, normal, high normal, high blood pressure. Others just have low, normal and high.
A normal blood pressure reading is any reading that is on with the systolic lesser than 120 and the diastolic higher than 60.
Here is a chart to help you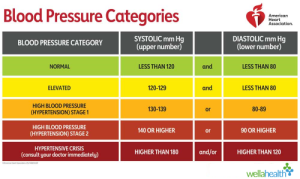 What are the possible illnesses one can get from a high blood pressure?
A high blood pressure, such as a reading of 180/120 mmHg or higher, can be considered, by medical professionals, as a medical emergency. In fact, a WellaHealth consultant on the other end of the call attending to you will request that you visit a hospital immediately. 
When we asked this question to Dr. Chris he shared the following:
" At that number (180/120mmHg) one may require immediate treatment to prevent serious complications. Some of the illnesses and complications by an individual with such a reading can include the following:
Stroke

Heart attack

Kidney Damage

Dementia

Aneurysm

Eye problems

Changes with memory or understanding
Would you want to risk any of these?
What do medical practitioners who consult via WellaHealth's telemedicine service advise?
Individuals should monitor their blood pressure regularly. The thing about blood pressure is that it can change for any reason – a little hard labour, a morning walk to the grocery store, a gym activity, walking your dog in the park – you should always monitor it. 
According to Catherine, If you can, a blood pressure machine is a must-have at home and check yourself, you definitely should. You can also do the following
Befriend a local pharmacist who will do it for a small fee say 200 Naira per session

Visit a local hospital to get your vitals checked which could cost you about 5,000 Naira per visit. You may be lucky and the nurses are able to check your vitals

pro bono

.

Get a WellaHealth Plan for only 1,700 Naira or  2,300 Naira

which covers you for 3 months and allows you access to our doctors and over 2,000 pharmacy stores nationwide to get a blood pressure check at no cost to you. You also get the following

A sugar test to check for diabetes 

A malaria test and treatment

A Typhoid Test and treatment and if you are ever admitted to a hospital, you can claim cashback for whatever you spend in a hospital to the tune of 25,000 Naira per visit.
However you choose to regularly monitor your blood pressure, you should ensure you get a chart and track your BP rate (heart rate) daily with a WellaID. However, only a physician can determine what treatment plan you should follow, and you can access them easily on the WellaHealth Network.
Recommended Further Reading & References