Femi is a middle-aged man who suffers from a chronic illness. He decided to go to the hospital because he was feeling poorly. He had used WellaHealth's telemedicine service in the past and found it seamless. After his appointment, the doctor gave him a prescription to aid relieve his symptoms. This prescription was electronically transmitted to a pharmacy in the WellaHealth network since the doctor was set up on Wellahealth's systems.
"If you're a doctor with an interest in using our e-prescription solution. Whastapp us here"
The doctor invited Femi to choose his favourite pharmacy from the network's over 2,000 partner pharmacies. Femi decided on the Nett drugstore in Ikeja because it was on his way home from work. Later in the day, he had intended to stop by the pharmacy to pick up his medications.
Pharm Bright Okokon is navigating a busy shift at the Nett Pharmacy. The WellaHealth app notifies him that a prescription has been sent and is being filled. The pharmacist went over the prescription to have it ready before Mr. Femi arrived when he had some free time. The pharmacist examined the prescription and discovered some worrying elements that could have been dangerous to Femi.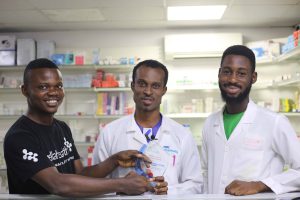 He was able to speak with the doctor and express his worries about the prescription thanks to WellaHealth. Together, the patient's doctor and pharmacist were able to choose a suitable treatment plan for the patient. Femi, the patient, was unaware of all of this, but when he finally showed up to pick up his medications, he was able to get the appropriate medication.
"If you have a chronic disease and want to ensure you're always taking the safest, most effective and affordable medications for you, send us a WhatsApp by clicking here"
Prescription errors in medicine are quite a common occurrence. In NHS England alone, nearly 6000 people were harmed by prescription errors last year. In the United States of America over 7000-9000 reports on prescription errors were filed. In a recent study conducted in Nigeria, prescription errors among health professionals were reported as 47%.
Providing healthcare anywhere in the world follows any number of steps and laid down procedures. A couple of things do not change, however. When interacting with patients, Nigerian doctors who are overburdened and stretched thin must daily balance conflicting priorities. Doctors consult with patients to learn about their symptoms and complaints; after that, they perform an examination to try to elicit further details about the condition. The doctor must next formulate a workable diagnosis and weigh all of the potential treatment alternatives. The doctor may occasionally decide to order some tests to help confirm or rule out competing diagnoses. This could be in the form of x-rays, blood tests, or other tests. Finally, the doctor makes a diagnosis that might need writing a prescription for medication. When writing prescriptions, it's common for mistakes to occur at a crucial moment.
Pharmacists can help in this situation. Doctors are frequently the specialists in all the stages that come before the prescription. Fortunately, there are specialized medical experts, known as pharmacists, who collaborate with doctors to make sure that the medications selected are both safe and effective for the patient. This is due to the complexity and broadness of medications.
Patients receive safer and more effective healthcare when physicians and pharmacists collaborate effectively. This is something we experienced when working at WellaHealth, where we have processed hundreds of thousands of prescriptions.
Join our pharmacy network if you own a pharmacy in Nigeria. Click here to WhatApp us
In Femi's case, he was unaware of the amount of work being done behind the scenes to prevent a negative outcome due to a medication error. He was saved from a health complication that may have arisen thanks the doctor-pharmacist teamwork made possible by WellaHealth. 
WellaHealth presented the Patient Safety Vanguard Award to Nett pharmacy in Ikeja for their quick identification of the potential risk in the prescription in this case. Our goal at WellaHealth is to entirely eradicate prescription errors and encourage productive communication among health professionals.
Join our newsletter to keep up with the work we do to improve healthcare affordability, safety and effectiveness.
 *names have been changed to protect patient confidentiality