My trip to the Superintendent Pharmacist & CEO of OSBUD Pharmacy Limited's main office was almost uneventful. Save for the incident with my Map App: the address I had entered told me I had arrived only that it was not the pharmacy location but the mosque that served the community.
A few calls helped us locate the office.
Inside the OSBUD Pharmacy's operating office on 5th Avenue, we met Godwin Osuji. He is a soft-spoken simple man whose sole goal as a leading figure in the pharmaceutical industry is to improve access to life-saving medications through his rich network of distributors, manufacturers, and colleagues spanning nearly 4 decades.
"I started my career as a medical representative for GlaxoSmithKline Nigeria Limited now GSK PLC in Kano shortly after my Youth Service", he started. "Back then, we were young, energetic and wanted to change the world and our lives through the work we did for GSK".
Godwin's office was adorned neatly with shelves of medicine carefully arranged to ensure that it was easy to find. His table had some medications he was sourcing for his aged mother who only recently turned 98, and on his right is a computer device from where he manages his stock, attends to emails, and organizes the operations of his legacy.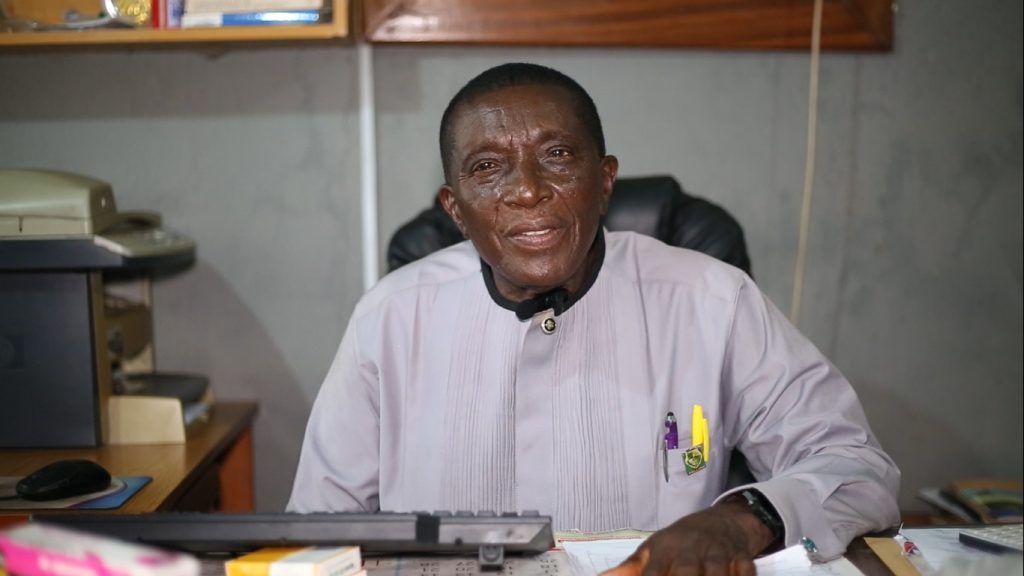 Our initial conversations centered around his first meeting with Bernard, a pharmacy operations officer with Wellahealth, in the corridors of the Golden Tulip Hotels. That engagement he shared would help decide to join the Wella Partner Program – a community of 2,000+ community pharmacists providing access to essential medicine for Nigerians nationwide.
My passion for young people is a testament to the opportunity I got early on at GSK, and my apostolate as a member of the Opus Dei – a personal prelature within the Catholic Church. I believe in the future Nigeria can share for its young ones.

Bernard showed passion from that first meet so much that I invited him to lunch at my residence and had him pay a visit to my staff to share the Wellahealth message. We have been partners with Wellahealth since that meet.
With the exit of GSK, not only will patients suffer the loss of the essential medicines provided to them by the company, but employees are also hit by the business are also threatened. Over 290 individuals work in the GSK Nigeria office. A significant percentage of this number would be in the job market soon putting further strain on Nigerians dealing with the macroeconomic realities of today.
Read more: 11 GSK Products and Their Alternatives
For 51 years, GSK PLC has manufactured and distributed products that have succeeded in nurturing millions back to health or preventing them from contracting a disease. Professionals like Godwin Osuji had helped it, during the company's early days in Nigeria, to position itself as a market leader. Yet, after nearly 29 years of leaving the British Pharmaceutical Giant, he is attached to the brand.
GSK leaving Nigeria is a testament to the realities of our macro-economics", he shared with me over the phone two days later, shortly after GSK announced it is leaving Nigeria. "And it is not only GSK, there's been more over the last couple of years. In the past, there's been Pfizer. Novartis is another"
"While this might be a huge exit in the industry with a negative impact on the economy. It may also be an opportunity for local pharmaceutical companies to develop local brands, like Neimeth Pharmaceuticals.
As I traveled back after lunch with the industry expert, I replayed his comments on how I approached my job with cheer and excitement. Then, I wondered about his final thoughts. I wondered about the success story of Neimeth Pharmaceutical. What helped them become and stay successful after the acquisition of Pfizer's trading assets in Nigeria? I wondered if I could talk to the CEO of Neimeth today. I wondered if, a few years from now, we would see another pharmaceutical business listed on the Nigerian Stock Exchange, after buying distribution rights and/or assets from GSK.
So tell me, do you think we will see another success story?