When I took a chance at WellaHealth, I had only heard of it from a friend who worked there in the company's early days. He had mentioned to me that he worked at a health tech startup that offered healthcare for only 450 Naira per month. I still remembered how I did not believe Tunde. We had served in the same SDG CDS at the Lagos State NYSC Office.
Of the 10 times, the SDG CDS group met during our National Youth Service Days. We met only six times, but would meet at different events around Lagos. He was passionate about the SDG Goals. I am going to be vulnerable here, I think he lived the ideals more than myself. Although I would later  become President of the Group after an election that saw Jimin, now a Ulesson Maths Instructor Whizkid, hand over leadership to me, I am humbled by the strides of my friend, Tunde. 
I would go on to build, in a 5-man team, an online learning platform to teach younger Global Citizens the Global Goals and how we might get there.
Now, back to the story.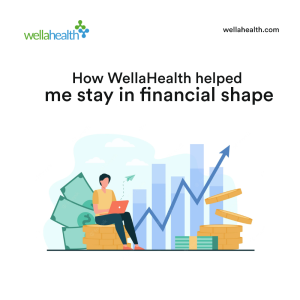 Before I found WellaHealth, I was already a couple of years in the labour market. As a salary earner, I had seen my own share of shege. Well before the term shege become the cliche, there was a SAPA, and many more before it. I do not recall months without a friend, family or loved one reaching out for a medical need. Honest asks from people who have helped and/or watched me grow to graduate from college, serve my fatherland and land my first job in EdTech as a Brand and Content Project Manager.
We have heard several stories, and make jokes even, on social media, of salaries completely spent before it even came. Well, this was me. And a huge chunk was spent on supporting my folks and friends to pay hospital/health runs. My old man is retired. My mother traded every 'hot' food item available per season per year. They did this to send me to school. I could not possibly abandon them now that I had means, albeit almost nothing.
In 2022, tail in my legs, I asked the friend if that company he worked for was still in business, and if he still worked there. Well, don't blame me. You see, I had argued then while we were comrades in service to our fatherland that the offer was too good and may run out of money. Well, the company is still here. He no longer worked there but was still full of encomiums for the work the team does. My first step was to chat with them over WhatsApp, and it was seamless.
Want to chat with the team at WellaHealth?
First was my father! An octogenarian with a great health but would need some malarial pills in a quarter or at least in six months. Then, there was my mother whose major complain back then was for migraines that were always advised to be the handiwork of  typhoid by the local PHC in the community we call home. 
There was an aunt who complains of everyone abandoning her as she was old and unmarried, and an uncle who only says hello when in need. There was a friend who could not complete his education as he got a bad taste of cerebral malaria and another who although completed his education needed help caring for his parent's health needs until he found a stable means of living.
At first, I spent over twenty five thousand (25,000)  naira monthly catering for people who needed help with 'hospital runs'. I couldn't bother to confirm if they were lying to me. It would be hard to, if i tried. So, I trusted. There was no reason why someone would lie to me with poor health, right?
I had less than 20% of my salary for my care, so I devised a strategy to put a certain percentage of my income for healthcare. Each month, I had learnt to budget about Seventeen thousand, two hundred Naira (NGN 7,200)  just to weather the storm and help me help the most I can. Sometimes, my aunt consumes 65% of the fund. Other time, it was my mum. Sometimes, it was my uncle, other time it was my friend. For these two, anytime they come, it is almost always 80% – 100% of the funds saved.
I learnt to say I am sorry I have expended my money. It was always sad to say this but I would be unable to help anybody if  I cannot pay rent or pay transport to the office. I had already kissed my social life good bye.
That is not the case today! 
I met WellaHealth's pricing at six hundred (600) and eight hundred (800) Naira monthly for the Basic and HospiCash Plans respectively. I could even get it for a discount of 100 Naira if I bought the quarterly plans for one thousand, seven hundred (1,700) or two thousand, three hundred (2,300) Naira for respective plans, which was exactly what I did.
So which of the WellaHealth plans did I choose?
Well, I chose the HospiCash Plan. For the seven individuals who have needed or asked for my help consistently for nearly 48 months of my career post labour market. The HospiCash plan ensured that they got tests and treatment for malaria and typhoid, get free heart and diabetes check, speak to a doctor so they do not self-medicate and ask me to fund their human experiments, 100,000 Naira in cash back when they are admitted to the hospital, and 80,000 Naira in funeral benefits paid to the members of their families in the case of death.
It was a no-brainer for me really. It was only an extra 600 Naira for over 200% of what the basic plan covers. Yet the basic plan offers all I had mentioned save for the cash back and tests and treatments for typhoid, so one can begin with that.
Want to gift a health plan to folks, friends or neighbours? Gift here
What has been their experience?
My father speaks with the Customer Success team of WellaHealth in pidgin English when he needs their help to visit a pharmacy, My uncle in Yoruba and in Pidgin English. My friend's parents are more educated so they speak English with the CS team. My mother and my aunt speak to them in Igbo and understand small pidgin sprinkled with some knowledge of English.
It was my mother who shared once that she was once tested and the results came out negative and rather than allow her go, they gave her some multivitamin and advised her to take rest. I had hitherto not been aware of this add-on as it was not as publicized as their main offering. How Sweet!
Read also: How a Nigerian patient's life was saved by doctors and pharmacists collaboration
So?
Well, I earn more today than I do back then. I have also picked up several skills along the way thanks to my hunger for learning and provide value as a way to earn and keep my head above financial waters. It was hectic.
For the seven persons under my care today, I only pay 16,100 Naira for a Quarter! I used to keep 17,600 monthly before WellaHealth. This meant that I save nearly 230% from my health budget for folks and friends all of which I have put in a mutual fund. 
Even if the WellaHealth team were to increase their premiums, I will definitely renew again and again. So much value packed in one health plan. 
***************************************************************************************************
When Tunde mooted WellaHealth to me way back at 65 Babs Animasaun Street, Surulere, Lagos, I would never had believed that it is that same product that I thought was too good to be from Nigeria, too good to be true, that could end up setting me on a path to financial freedom. Look at me now, I even accepted the jo to lead its marketing and communications team.
If you are like me and want to take that big bold step to getting and staying in financial shape in 2023, here is the link to subscribe to a health plan