Henry Nnamdi, 35, is a trader in the Balogun market who deals in fabrics of different sizes and patterns. He is a family man whose life is steered by the love of his siblings and devotion to his mother, his only living parent. He would do anything for them. Like most Nigerians, he was without a health plan for most of his life, until he found WellaHealth. Now he is living the life and preaches to everyone who cares to listen that they should come aboard.
But it was not always like this.
"I used to buy medicine from the local pharmacy near my house whenever I needed to treat malaria or typhoid. I do not need a test to confirm if it was malaria. Just in a few cases when I was forced to do so by my siblings".
WellaHealth provides affordable healthcare solutions for individuals and businesses who need healthcare coverage that protects them from tropical illnesses and hospitalization with tests, treatment, and hospital cash back whenever they are admitted into a hospital.
For Henry, WellaHealth has helped him properly prepare for illnesses and not fear so much the cost associated with them. Here are some of the reasons that make him believe that he is living the life.
Like Henry, here are 5 ways WellaHealth can help you live "the life":
1.  The cost of tests and treatment is fully covered
For nearly 320,000 Nigerians, malaria is a normal phenomenon. We contribute 32% of the global deaths from malaria in a world with nearly 241 countries and sovereign states. It costs nearly 5,000 Naira to test and treat malaria
Here is a quick survey we did on this topic: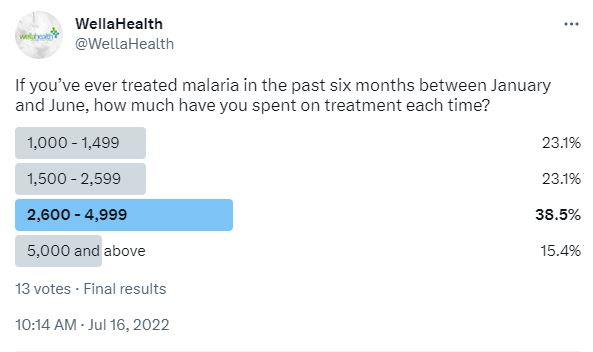 You can see that from the poll, 49% of respondents report that they have
Henry used to pay up to 7,000 Naira to treat himself for malaria and typhoid when he is down and this does not include the tests and treatment.
"Well, the pharmacist always shares with me that I need a particular type of medication to get better and fast. I also believe that the costlier the medication was the better so I never bothered. I needed to get better as fast as I could so I can resume my work. So, I happily pay."
WellaHealth, today, ensures that all enrollees get access to the best healthcare and can test for malaria and typhoid to be certain that the treatment plan recommended is the right path for the illness
2.  Customer Service is responsive
Customer service is difficult in the country. Whether it is a public service or private sector customer-facing business. People
"I have used many services as a young Nigerian and a trader. The most common is the call I make to my bank's call center and the telcos too, it's hectic. I have also used different hospital and health plans. Their call center always frustrates me. WellaHealth was different. They were courteous, ready to listen and help"
WellaHealth's customer service is designed specifically to cater to different channels that enrollees may try to access our health plans.
Our call center is open for 15 hours daily between 6 am and 9 pm on weekdays. You can try to make inquiries now even. Call 09087482264.
Some of our customers even drop call our numbers and we reach back almost immediately
You can reach our customer service to make claims, request that WellaHealth's team call you if you have no airtime, or even make inquiries. To try this dial *347*96#
Our NPS score is at 9.8 out of a possible 10 showing that our customers enjoy rich and thorough experience. Henry did not hesitate to state that it was the "seamlessness of the onboarding process, and the helpfulness of the customer service team that endeared him to the brand".
3.  Claims are processed in 48 hours or less
WellaHealth plan allows Henry access to treatment at any hospital and refunds him in cash back what was spent to the tune of One hundred thousand Naira annually.
"Claim processing can be hectic in the health insurance system. I have heard some stories from acquaintances who complain of the health plans they got from their work, and how difficult making claims were. I have never had that issue making payments. The claims' process is seamless here. All I need do is to reach out to customer service and they quickly attend to your claims.
To make claims for hospital cash back, you only need to present the following document after service must have been rendered by the hospital:
And within less than 48 hours, your money is processed.
The WellaHealth HospiCash Plan covers enrollees with a Hospital Cashback of up to 100,000 Naira annually.
In case of the death of an enrollee, the family receives a funeral assistance benefit of 80,000 Naira to support the family in planning the funeral of that loved one.
Read more: How to get 80,000 Naira funnel assistance benefit from WellaHealth
4.  Regular Diabetes and heart checks
A blood pressure test at a local laboratory costs an average of 500 Naira and a blood sugar level costs an average of 1,000 Naira only. It is advised to regularly check your sugar level every morning before breakfast. This is called Fasting blood sugar. Blood tests checked after a meal is called Random blood sugar.
Read more about blood sugar levels here
If you were to check your blood sugar level at a local laboratory, four times weekly. It will cost you only 2,000 Naira monthly. With a WellaHealth plan, you pay only 2,300 plan for 3 months and can access these tests plus the many other benefits Henry is enjoying
"The first time I used the WellaHealth Plan, I was shocked that tests that would otherwise cost me money if I visited a lab or a hospital were offered to me pro bono. I assumed it was for only one time for the 2,300 Naira premium I had paid earlier, but it was not. And even if all the tests I can get from WellaHealth were just once during the entire 3 months. It would still be a steal."
Your sugar level and blood pressure level are important tests one must be conscious of. A recent report by the Guardian shared that over 80 million Nigerians are living with hypertension and a BP higher than 140/80mmHg, however only 26.7 million are receiving treatment for it.
Read more: Why is hypertension called the silent killer
Like Henry, living life will mean that you can track your blood pressure regularly and adjust your lifestyle as needed.
5.  I have control
Life is filled with uncertainties, and control is almost impossible. But what if you could prepare for things that you cannot control?
"For me, I know, for a fact, there is no way to control illness. The type of illness that my life will bring me each day. Malaria. Typhoid. Headache etc. I can only try to control what might be. I can also not control the cost of the treatment plan that a physician will recommend for nursing me back to health.
"However, with WellaHealth, I have control of the basics, tests, and treatment for my most common illness – typhoid and malaria, regular heart and sugar checks so I can stop myself from becoming hypertensive or diabetic; hospital cash back when I am admitted and access to doctors if I have any symptom, I want to discuss with a doctor ASAP"
It is a difficult terrain trying to help Nigerians pay out-of-pocket and stay in control. No wonder 97% of Nigerians are without a health plan. Somebody's got to do it.  Then the journey of bringing a form of control in managing common illness for Nigerians has been bumpy, yet we do it.
Need a WellaHealth plan to live the life? Get here